Highest Cash For Gold Payouts
Buyers of New York offers the highest cash for gold payouts in the world, gold is on the rise and there is no better time than now to cash that gold in, we buy all kinds of gold jewelry, anything with gold in it we will buy. You can come to us on 47th street or you can use our convenient mail your gold option form on our site. We are gold buyer that buys gold from the public at the highest possible price. We are refiners as well so we cut out the middleman and can pay you the most cash for your gold. No one pays more  to us for your gold jewelry.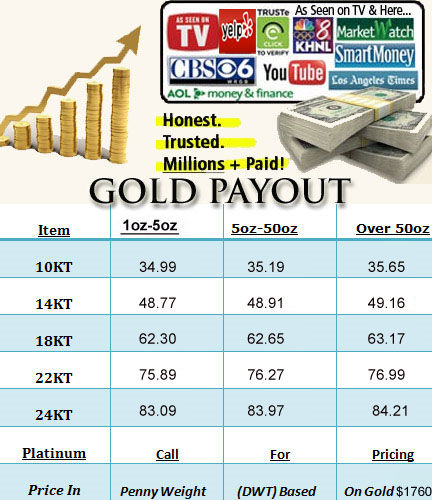 How To Sell Your Gold For Top Dollar
We make the process of selling your gold so easy, whether you want to come to our NYC location or want to do a mail in, its simple, just place all the gold you want to sell in a bag, take them to our location or mail them in. We will then give you a quote based on the weight of the gold as well as what karat it is. You will then be paid in cash if in person or by wire transfer or check that same day. our payments are fast and will be the most you will be able to get compared to any other gold buyer in the industry we pay the most compared to any internet gold buyer or brick and mortar gold buyer in the USA.
Whens Best Time to Sell Gold?
Many people ask this question and what it comes down to is; your financial situation, if you are in need of money and need fast cash and have gold or other jewelry to sell this is the best way to free up some cash to pay your bills or use the money for some other reason. The price of gold fluctuates every day so that means what we pay today may not be what we pay for gold tomorrow. The only thing you can be sure of when selling your gold is you will get the fairest price for all gold items.
What We Buy
Gold in any conditions (Broken, New, Used, Tangled, Antique, Old)
Any & All Karat (9K, 10K, 12K, 14K, 18K, 22K, 24K)
Gold Charms, Gold Bracelets, Necklaces, Coins, Watches, Gold Rings, Tangled-Broken-Old Gold, Gold Brooches, Pins, Cuff links etc.