Looking to sell broken gold jewelry in NYC
Buyers of New York specializes and pays top dollar as if your gold was brand new. We buy all broken, damaged, tangled, mismatched and unwanted gold jewelry. We buy 8k,10k,12k,14k,16k,18k,22k,24k gold chains, necklaces, bracelets, mismatched earrings, brooches and more. If you are looking for a reliable and honest gold buyer that will pay you top dollar for any and all of your gold jewelry, simply give us a call to schedule an appointment, or book online by filling out our form. We are open 6 days a week and look forward to giving you the best price for your gold possible.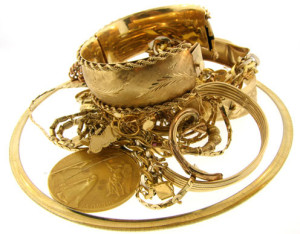 When buying gold there are many gold buyers that claim to offer the best and highest payout, you have to be aware of a few factors when selling your broken gold online or in person.
Broken gold is worth just as much as any kind of gold, whether it is new, brand new or never worn, it doesn't matter, gold is worth the same in any condition.

We display our prices proudly on our website, does the other gold buyer do that? maybe, but maybe not.
We strive for customer satisfaction and show our reviews across all platforms, does the other gold buyer do that?
Know the current gold price, and try to know what karat the gold is, this will also be tested in front of you when you come to our office assuring you that you will be paid the highest price for your gold.
The weight of the amount of gold you have as well most gold buyers use the pennyweights when weighing gold vs grams, either way, you should weigh your gold before hand so you can determine an approximate value for your gold.
Following these steps will assure you when selling your broken gold that will give you the highest amount possible for your gold jewelry.
We are located near all major transportation, subways and buses in midtown Manhattan, we are also open 6 days a week from Monday through Saturday from 10am to 6pm and it is recommended you call to set up an appointment. After this remember to bring any and all of the gold or other jewelry you want to sell, and also don't forget your ID as we need this to process any transaction.